Condominium Buildings at Station Square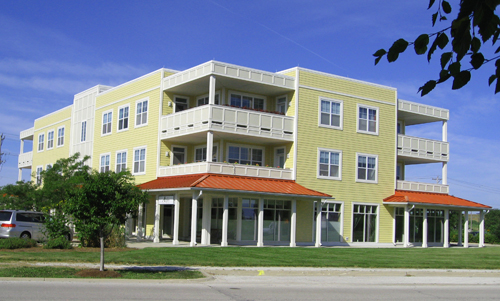 The Burnham, Bennett, and Wacker Buildings were designed by Worn, Jerabek, Wiltse Architects, P.C., of Chicago.  Todd Wiltse served as lead architect during design and construction. He worked with Bill Worn, Clinical Associate Professor and Associate Director for Graduate Studies at the School of Architecture, University of Illinois in Urbana, and Mike Jerabek. Todd Wiltse has extensive experience on a range of new construction and renovation projects. He often speaks at conferences on designs for an aging population.
The three-story Burnham Building at the head of the Station Square contains only condominiums. It is named after the charismatic and visionary Chicago architect Daniel H. Burnham, who served as chief of construction and director of works for the World's Columbian Exposition of 1893. Burnham is probably most remembered for the 1909 Plan of Chicago, which is often called the Burnham Plan, even though his co-author was Edward H. Bennett. The inspiring Plan of Chicago led to the transformation of the city over the decades that followed.
The Bennett and Wacker Buildings on the sides of the Station Square are similar to each other and include commercial facilities on the first floor, with condominiums on the two floors above.
The Bennett Building is named for Edward H. Bennett, Burnham's young associate who was a planner in his own right. He led the design and management of Burnham's plan for San Francisco and carried out the Plan of Chicago as consulting architect to the Chicago Plan Commission. Educated at the Ecole Des Beaux Arts in Paris, he designed the Buckingham Fountain in Grant Park and many elegant Chicago bridges.
The Wacker Building is named for Charles H. Wacker, who served on the Chicago Plan Commission and wrote a Manual of the Plan for Chicago. The Wacker Manual was taught for many decades in the city's schools and led to strong public acceptance of the Plan's recommendations.