Biodiversity
From the initial planning, Prairie Crossing has been committed to enhancing the natural resource base and the wide range of plants, animals, birds, fish that are native to this area. In large part this has been accomplished by focusing on creating significant areas of native plant communities. Prairies and savannas are two of the most threatened ecosystems in the Midwest. According to the Illinois Department of Natural Resources, only about 2,500 acres still exist today of the approximately 22 million acres of Illinois' original prairies. Planting our opens places to prairie is one attempt to reverse this loss.
Habitat Restoration
The most fundamental decision made in the design stage was setting aside large areas of undeveloped land of Prairie Crossing that would be managed for habitat. Science tells us that one large piece of un-fragmented habitat is far more valuable for wildlife than the equal amount of open space split up among many smaller plots.
The Prairie Crossing master plan illustrates the corridors of connecting green spaces between groupings of homes. These open spaces were restored to natural habitat with native vegetation. Native vegetation is critical to prairies, wetlands, lake, and ponds because it is the foundation of the food chain that runs from insects up to birds, mammals, and other creatures. Prairie Crossing is part of a larger, habitat-rich landscape as part of the overall 5,800 acre Liberty Prairie Reserve.
Sanctuary Pond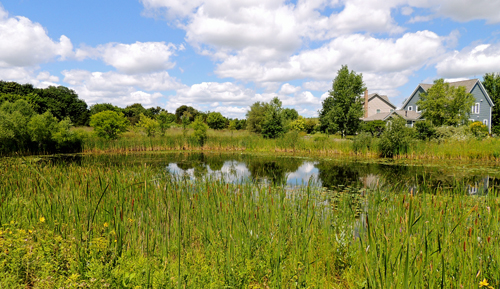 Sanctuary Pond is the first breeding refuge in Illinois for fish threatened with extinction. In 1998 the pond became a sanctuary for threatened & endangered fish species through a pilot project of the Liberty Prairie Foundation, Prairie Crossing Homeowners Association, Integrated Lakes Management and the Illinois Department of Natural Resources. Sanctuary Pond was chosen because high quality and the fact that no streams flow into it. Because of this, there is also little chance larger species of fish would enter the refuge.
The five native species of threatened & endangered fish introduced in 1998 – Banded Killifish, Blackchin Shiner, Blacknose Shiner, Iowa Darter & Pugnose Shiner – continue to thrive and are critical to a healthy biodiversity in our streams and lakes. To improve fish diversity in other lakes, fish transfers have occurred to Lake Aldo Leopold & several Forest Preserve Lakes. The Sanctuary Pond project was awarded a Conservation & Native Landscaping award in 2011 by Chicago Wilderness. The Shedd Aquarium is studying Sanctuary Pond to gain a better understanding of how fish populations can be reestablished in urban/suburban waterways.
Wildlife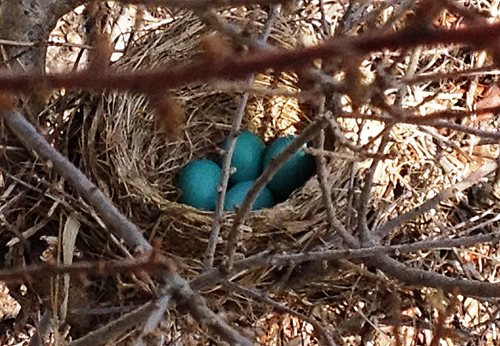 With a continued commitment to maintaining the ecological health of these hedgerows, lakes, prairie and wetland communities, Prairie Crossing is now home to a broad array of plants, insects, amphibians, reptiles, mammals and birds. Using birds as one example, before the creation of the native ecosystems, the corn and bean systems supported 15-20 bird species.  Today we've documented over 188 species using Prairie Crossing ecosystems.
Other wildlife is flourishing as well at Prairie Crossing. There are 9 species of toads and frogs in Prairie Crossing, despite the fact that these amphibians are declining around the greater Chicago area. Various species of snakes and turtles now can be found in our recreated natural areas. There are 9 species of fish, including the 5 threatened and endangered species protected at Sanctuary Pond. During the excavation of Lake Aldo Leopold, a nesting island was created for area wildlife and attracts a diverse population of birds.
Indicators of Success
Anecdotes capture the richness of wildlife and overall biodiversity in Prairie Crossing. Bald eagles have been spotted several times vising Lake Aldo Leopold. A least weasel, a rare species in Lake County, found itself trapped in a window well and was able to escape with help from friendly residents. A mink was seen moving quickly along greenhouses on the farm as it continued its rodent control mission.
One fall evening, a group of nighthawks swooped and turned over Hedgerow as they took advantage of migrating green darner dragonflies to grab food on the wing. White egrets and great blue herons can be seen wading in the shallow water on the edge of the lake and Sandhill cranes can be heard warbling high above during their migrations. Coyotes help control the deer, rabbit, and rodent population in Prairie Crossing. Residents enjoy the sounds of great horned owls calling to each other from home roofs. Bats fly overhead at dusk to dine on mosquitoes. Without native plants like milkweed, plentiful in Prairie Crossing, beautiful creatures like the monarch butterfly can't survive. Native habitat in Prairie Crossing's extensive common areas and home landscapes is vital for a variety of creatures that enrich the lives of its human residents too.