A healthy lifestyle
More than ten miles of trails, a stable, and a large lake with beach and dock provide opportunities for healthy outdoor exercise. Multiple farm businesses at the Prairie Crossing Farm grow fresh organic vegetables and other farm products for the Prairie Crossing community and beyond. Individual community garden plots are available at the Prairie Crossing Farm. Lake Forest Hospital has built a new facility at Prairie Crossing. Click here for the next guiding principle, A Sense of Place.
Healthy Food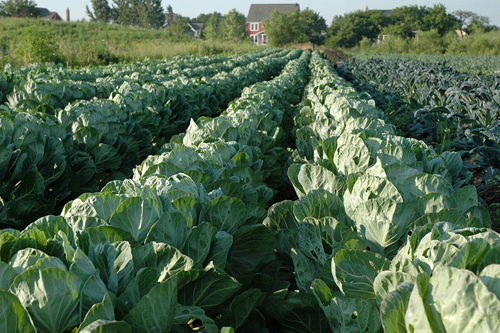 The Prairie Crossing Farm, a working organic farm, is located in Prairie Crossing. Sustainable agriculture was integrated into the site plan to provide residents with a hyper-local source for healthy organic food. At the Prairie Crossing Farm, independent farm businesses grow healthy food for customers in Prairie Crossing and the larger Chicago region. Prairie Wind Family Farm is at the Prairie Crossing Farm for the long term while other farm businesses "incubate" through the Farm Business Development Center (FBDC), a program for beginning farmers. Click here for information about the independent farm businesses at the Prairie Crossing Farm.
At the community gardens at the Prairie Crossing Farm, Prairie Crossing residents and the larger community can also grow their own food. Interest in home gardening continues to grow and the community gardens are generally filled to capacity with gardens bursting with fresh, healthy produce. Click here for information about the community gardens at the Prairie Crossing Farm.
Active Living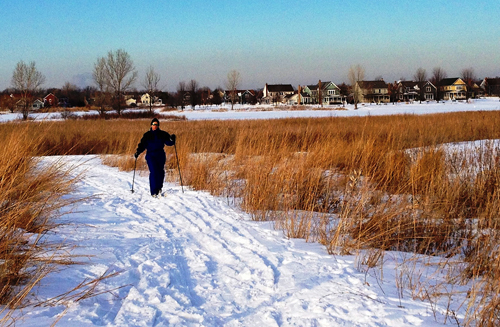 Prairie Crossing offers year-round outdoor and indoor recreation for residents with an enviable array of amenities. More than 10 miles of trails are frequented by runners, bikers, walkers, cross-country skiiers, and horseback riders. Trails also connect to the 5,800 acre Liberty Prairie Reserve via the Route 45 underpass and onward to Independence Grove and the Des Plaines River trail. Residents of all ages flock to Lake Aldo Leopold's sandy beach in the summer for swimming, and buoys are placed by volunteers for distance swimmers. Non-motorized watercraft including canoes, SUP boards, and paddleboats glide through the lake's gentle waters. Residents catch-and-release fish on Lake Aldo Leopold year-round and during the winter the lake is used for ice skating and hockey games.
Fourteen parks and play lots are spread around the community, including those owned by the Prairie Crossing Charter School and Grayslake Park District. Parks feature sandboxes, swings, climbing equipment, basketball courts, soccer fields, baseball fields, and refurbished tennis courts. A 24×7 fitness center is located in the lower level of the Byron Colby Barn and features fitness machines, treadmills, free weights, ellipticals, fitness balls, and accessories.
Healthy Practices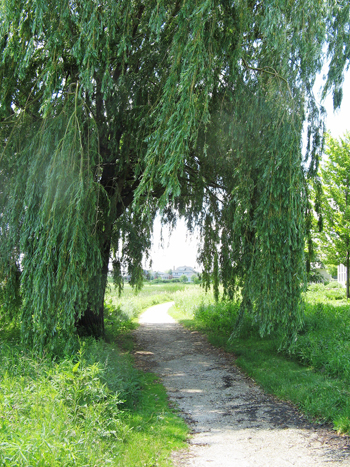 Land management practices in Prairie Crossing are healthy for the land, animals, and residents. The common and natural areas are stewarded to improve their ecological health and function each year. Not only are the prairies and wetlands beautiful, they are critical for Prairie Crossing's stormwater treatment, and the maintenance of extremely high water quality in the lakes and ponds.
Pesticides that not immediately used 100% by the intended plant community run off and become a pollutant downstream. Because of Prairie Crossing's emphasis on the entire ecosystem, land is managed differently than a typical development. All pesticides and herbicides are reviewed by the Environmental Consultant before being used on common areas, are used minimally, and with the health of the entire ecosystem in mind. 203 acres of land are restored prairies and wetlands, which reduces the amount of pesticides needed to manage them.
Resident Testimonials
Feedback on the Guiding Principles is gathered annually in a survey. Here are several comments from residents related to this Guiding Principle:
"We have great opportunities to maintain healthy lifestyles through greater awareness of our food systems and access to healthy food from our farm – CSAs and farm markets."
"The community gardens, gleaning on the farm and food bank donations are good efforts that meet several of our principles. The Prairie Crossing Farm is really coming into its own and making increasing contributions locally, regionally, and beyond. More people need to know about all that goes on at our farm."
"As a parent, I really appreciate all the playgrounds in the community. Our kids can easily walk or ride their bikes to so many places where they can run around and play with their friends. As they've gotten older, they can also run on the trails and come with us to the fitness center – all without leaving Prairie Crossing."